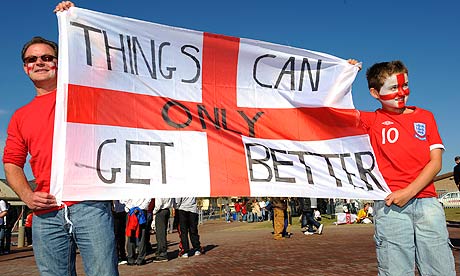 Written by Brad Smith
Two years down the line, after that 4-1 drubbing to the hands of the Germans, how far have we advanced as a squad, and more importantly, can we banish those World Cup memories with success in Poland and Ukraine this June?
Success doesn't necessarily mean winning the tournament, as at the moment, we dont have a manager, our strikers have contracted the plague, and we haven't got a leader.
But one thing that is for certain, is that we need to throw the old-school 4-4-2 out of the window, and although we are almost certain to have an English manager, we need to adapt a more fluent, attacking, and predominately European style of football.
Rewind back to 2006, and you or me had as much chance of playing on the left wing for England as anyone else. Now we have them in abundance, all with different mentalities, skills, and pros to the team.
Capellos midfield against Germany on that fateful day, consisted of Gerrard, Lampard, Barry, and Milner. The flair and ability of the Madrid pairing Ozil and Khedira bossed the game, and more than showed us up, more than any refereeing decision could.
So, despite being totally unqualified for the position apart from a very successful Football Manager career, I am hoping the FA take a tiny bit of notice, and select a team similar to the one suggested by me below.
So there we go. A few raised eyebrows I am sure. First of all, the 4-2-3-1 formation.
I think we should have alot more faith in our back four. Cole and Richards are my choices for full backs, not for their overall game, but their defending, surprisingly. Many people would prefer Walker or Johnson for the right-back position, but in this formation, we wouldn't need the attacking threat that they both provide, as it would leave us vulnerable at the back, and I also believe that Richards is a superior defender to those two, hence him getting the nod in my team.
In Parker and Barry, we have two great passers of the ball, and both able to take the ball from the defence, and bridge that gap between the front 4 and the back 4. Despite Gerrards age, he would be one the first names on the team sheet for me, and also my captain for the tournament, due to his exploits as Liverpool captain.
For me, this is Gerrards best role, and can allow him to drift around the midfield, as well as helping out the lone striker, as well as the two more defensive minded midfielders.
There are so many choices for the two wingers, who would make it more of a 4-3-3, with them being able to cut inside, much like Chelsea have played in recent seasons. Young and Downing would be my first choices, although Walcott, Adam Johnson, Oxlade-Chamberlain, and Milner could easily stake a claim for the first team. They would be given the freedom to attack wing-backs, cut inside, create chances for themselves, aswell as the lone striker, rather than just sticking along the touchline, like they have done in tournaments gone by.
The rest of the team is pretty self-explanatory, Rooney being our main attacker, although Sturridge and Welbeck will be fighting for the spot for the first 2 group games, with Welbeck being my first choice at this present time.
So, more importantly, Can we win? How far can we go? Well. Should we match Spains result in the groups, we wouldn't meet them until the final, providing they get there of course, but many people will be backing them to defend their crown come June-time.
Providing there are no major shocks, and that we top our group, we would meet the winners of the "Group of Death" in the semi-finals, of course providing we can overcome either the Irish or Italians. So, Germany and Netherlands will be favourites from the Group of Death, meaning a match-up against either our dearest rivals Germany, or tonights opponents, and World Cup finalists Holland.
Though, I am not putting to bed the possibility of a heartbreaking defeat in Donetsk to the hands of Ukraine, or penalty heartache later on in the competition.
Either way, should players stay fit, a professional manager comes in, and we play my coveted 4-2-3-1 formation, I believe we have many reasons to be optimistic.
------------------------------------------------------------------------------------------------
Feel free to discuss this piece and follow me on:
Twitter: @BrummieBrad
Facebook: /beaverbrad