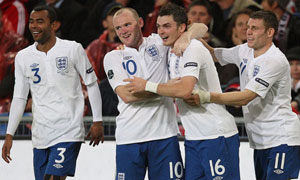 Short Answer? Probably not.
Will it be our best team for a while? Definately.
So, why can't they win Euro 2012 you ask? Two reasons. Spain and Germany. Both have accomplished teams, and in Spain, the current world beaters. Beating a team that realistically were a League below them in class, and who are probably still a class above the current England team.
When comparing the 3 teams, I like to use the jigsaw puzzle concept. England, have been putting the puzzle together for years, but, by the time they've found the pieces they are looking for, the dog has chewed a couple off the corner, and so on, in one big annoying circle, where the puzzle, will probably never actually ever be completed.
So they should take Mr.Germany's view on things, and do what they did in 2010. Scrap the old puzzle, and bring in a completely new one. Box and all. That worked. They picked through the gaps in Englands "puzzled" defence, before destroying the helpless Argies, who luckily for most of us, won't be playing in Euro 2012, most probably due to the fact that Carlos Tevez won't want to drive the team coach. Ok, I lied, they're not European.
That brings us onto Spain. The world-beaters. El Championes. The dogs bollocks. Few would bet against them retaining their World Cup, let alone this smaller competition. Their puzzle was completed in style. They sorted out all the side bits and corners first, grouped all their puzzle bits, and sat there looking smug whilst gluing each tiny bit into a nice golden frame, even when some crazy Dutch geezers were kicking them in the face near the end.
So, back to England....
In Joe Hart, we have the making of a settled England No.1 since the Victorian times, and in Terry and Cole, have bags full of experience, on the pitch, and off it. Gary Cahill, despite being at the under-performing Bolton, would be my choice of CB to partner Terry, leaving Johnson and probably Smalling to scrap over the RB spot like a pair of rabid dogs.
Wingers. Where do we start here? Not long ago we were pinning our hopes on Shaun Wright-Phillips, and a schoolkid from Arsenal who looked like he had won a competition to be in the squad.
Now, it seems some special breeding program was developed, and we have Ashley Young, Stuart Downing, Adam Johnson, James Milner, and Theo Walcott fighting for the jerseys, with a few very competent back-ups.
The centre of midfield is what worrys me. It seems Parker and Barry will be ones to battle it out come next year. Don't get me wrong, I think they are both great players, but at 30 years of age each, I think the likes of Xavi/Iniesta, Muller/Kroos and others will be way too much, and where Englands opponents will look to exploit.
Strikers. The goal scorers. The only question is, who will play alongside Wayne Rooney? Andy Carroll, who the Guardian printed "shows shades of Alan Shearer" after a defeat of the world-beaters Plymouth Argyle. Darren Bent? Who has scored goals wherever he has gone, and doesn't even drink alcohol, which will at least increase the blood levels in the teams alcohol system by a smidge.
However, it could easily be one of the new boys. Agbonlahor? Welbeck? Or even Peter Crouch after a revitalised season at the Premier Leagues top rugby team Stoke City.
What ever happens, I do believe under Fabio Capello, we have the ability to beat the Netherlands, the Portugals, but without a significant improvement as a team as well as individuals, I forsee a semi final heartache against either of the two teams mentioned.
But then again, who would bet against a heartbreaking 7-6 penalty defeat at the hands of some Eastern European minnows in the quarter finals?
That is exactly why we all love football.